Movers in Cullman, AL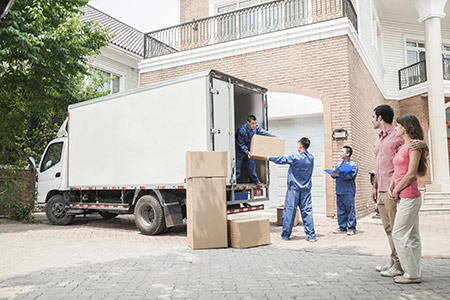 For over 50 years, Henderson Moving & Transfer Inc. has been providing prompt, professional moving services to customers throughout Cullman, Good Hope, South Vinemont, Dodge City, and Cullman, AL and the American Southeast. We are a full-service moving company, assisting all phases of your residential move. For commercial businesses, we offer the setup and delivery of items for customers. Learn more about how the best in home-moving companies can assist you today!
Best-in-Class Moving and Transport
When life has you pulling up stakes and moving to a new home, make sure you're hiring residential movers in Cullman, AL to help you out. And, whether your move is just down the street, to an adjacent zip code or to a brand-new state, trust Henderson Moving & Transfer Inc. to ensure it's done right, headache-free. We'll take care of the prepping, packing, loading, transportation, unloading and anything else you might require. We do all of the heavy lifting and logistics so you can focus on getting your life started in your new living space.
Customers choose us over other home-moving companies in Cullman, AL because of our experience and capabilities. Not only have we been doing this for 50 years, we've helped people move just about anything you can imagine! From heavy gun safes and pianos, to priceless furniture and art, our team brings the know-how and carefulness you demand to every job. We'll make sure everything you own gets to where it needs to go quickly, and in the same condition it left in.
While Henderson Moving & Transport can handle all your needs when it comes time to move, we DO NOT however handle the moving, transport, or relocation of actual mobile homes or trailers.
Need more from your moving truck companies? For our commercial customers, we're pleased to offer our trucking services for your inventory transport and customer delivery needs. Call on us to have items moved or delivered and know you're going to get nothing less than top-level reliability. Take a look at just a few more reasons we're the premier moving and transport company in Alabama:
Our service area extends to the entire contiguous United States! We specialize in regional moves within the Southeast, encompassing states like SC, FL, AL, MS, LA and TN.
We're proud to hold an A-plus rating with the Better Business Bureau (BBB).
Our residential movers are fully licensed, bonded and insured for your peace of mind.
We offer transport to both residential and commercial customers.
Our team will move anything up to 500lbs, including pianos, gun safes and more.
Get Reliable Transport
Whether you've got a few big items going to a single customer or you're packing up and moving to a brand-new home, trust our team for transport and moving. Contact us for a quote from one of the best home-moving companies.
Areas Served
Henderson Moving & Storage Inc. has been providing professional moving and transfer solutions to Northern Alabama and the surrounding areas for over 50 years.
Our residential movers serve the following areas:
Cullman County, AL
Cullman, AL
Madison County, AL
Huntsville, AL
Morgan, AL
Limestone, AL
Lauderdale County, AL
Florence, AL
Hartselle, AL
Hanceville, AL
Sheffield, AL
Decatur, AL
Valdosta, AL
Moulton, AL
Austinville, AL
Brooksville, AL
Dodge City, AL
Gardendale, AL
Fultondale, AL
Birmingham, AL